I'm going to come right out and say it: these pictures don't do the installation justice. To be there and actually experience everything is what an art show is all about. To be able to pick up the booklets and prints on the table, to smell and perhaps feel the wood, to view the illustrations inches away — all interaction. But hey, if you weren't able to make it, here's your personal tour around my wall.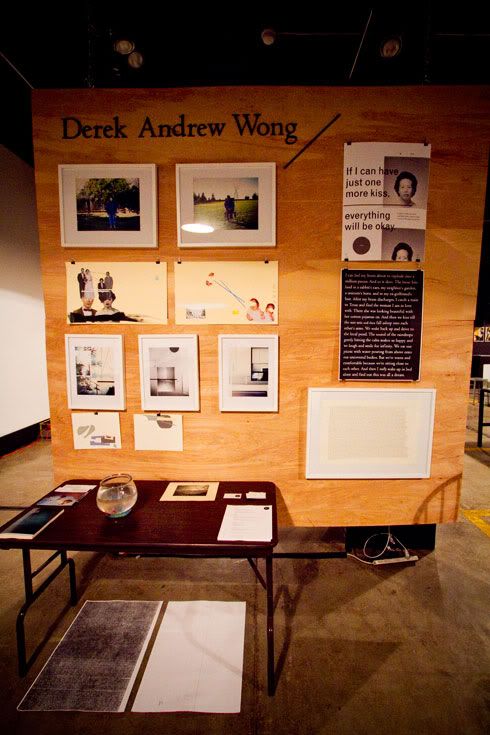 Starting things off with a portrait series I shot from "Breakfast Under Water". I chose my mother and grandmother from the six-person series. The original idea was to put a blank frame next to the two to show a mystery of my own daughter in the future. But who knows, I might get all boys just like my mom!

Come Back Home
featuring my other grandmother who unfortunately won't get the chance to see everything through pictures. It was my way to praise her. My way of giving her the light she deserves. Actually, I got a guy who came up to me and thanked me for my work. He told me he loved my stuff because it was personal and it was a different kind of design. So if you're reading this dude, this post is for you.
I turned a lot of heads for this one. Called,

Shadows in Texas

, this was an original short vignette I wrote a month before installation. Again, my original idea never fell through. My intention was to put a short from "Too Dark In Heaven" and tease the reader of what's to come next, but this new vision came about. I'm happy with the ending sentence. It kind of leaves you hanging anyway.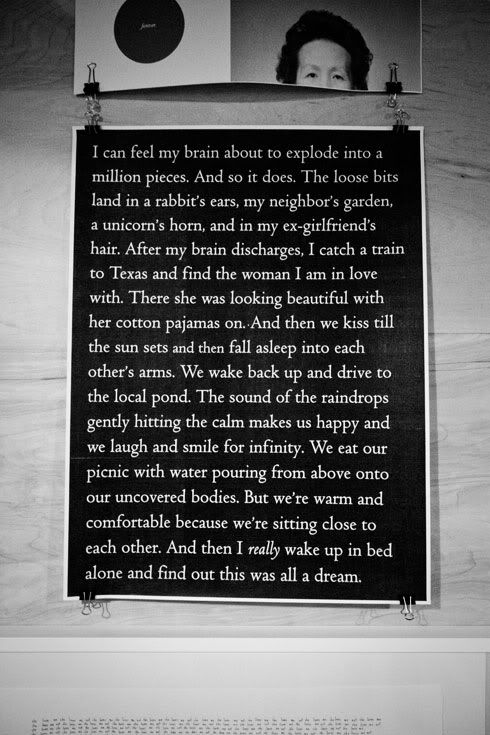 This was a fan favorite. Titled,
She Slow Dances with the Devil
, it took about two and a half hours to finish. But wait, I did
two
versions. I didn't like the way the pattern came out the first time around, so I grabbed another piece of printmaking paper and did it again. I'm happy I did. Can you say carpal tunnel syndrome?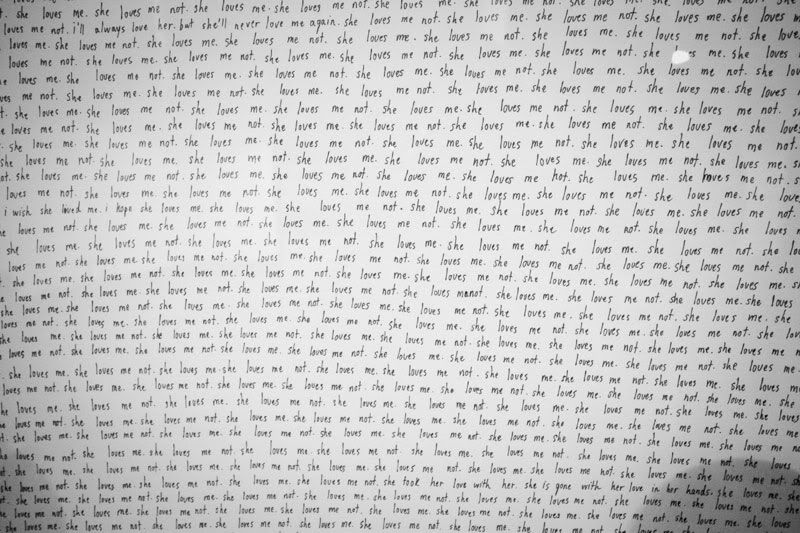 There's the "Too Dark In Heaven" book lying on the table next to another small piece "(The Art) of Too Dark In Heaven" (which you probably seen already with Too Dark Tuesdays) and the infamous fishbowl everyone couldn't stop putting their fingerprints on. A lot of people asked why I brought in a fishbowl. It directly connects with a story in "Too Dark In Heaven". I guess you have to read it to find out (*wink).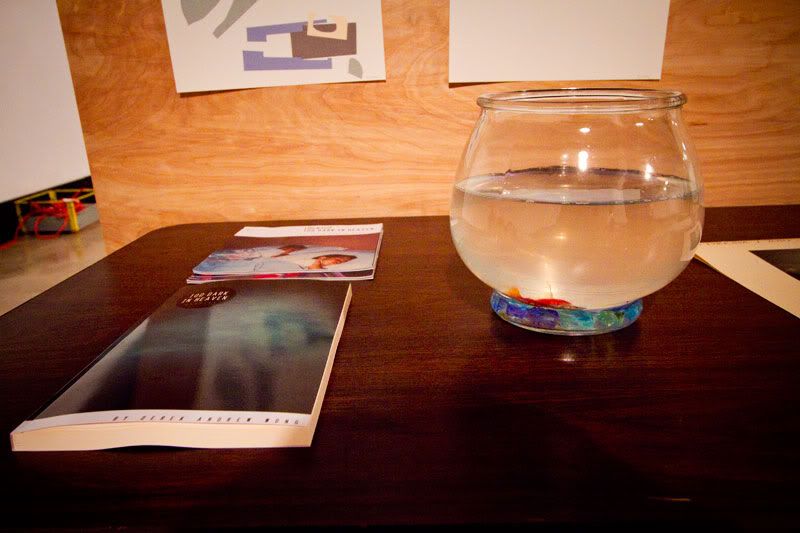 A definite head-scratcher. A made a sculpture for the show. What sucks, someone broke it during the show. Anyways, it's called

Vanilla Scented Bombs

and the idea was to have the other half of the egg hanging next to it. I guess someone must've bumped into it and the egg fell right on the frying pan. I guess it "works" in a way. Yup, that's a frying pan cut in half and spray painted gold. The card describes the entire piece but I'll give it to you in an eggshell (get it?). The frying pan symbolizes the world cut in half, a contrast of all things: right or wrong, beautiful and ugly, black or white, good vs. evil, etc. We are the cracked eggshell with no yolk, symbolizing no soul or spirit. Are we drifting onto land as rebirth or are we floating away and leaving earth? I guess by the looks of it, we're landing on earth. Suuuuuuucky.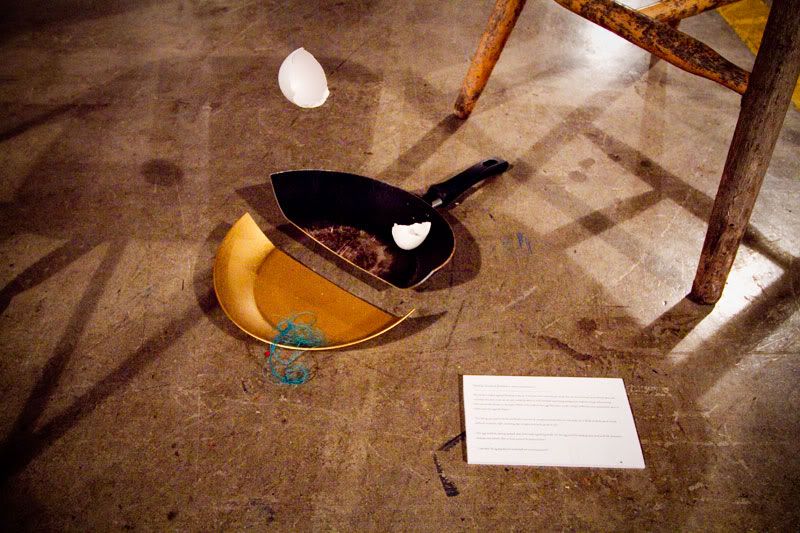 These were from series called, "Walking Without a Head". From left to right, we have

Kisses in the City

and

The Rainbow That Turned Into Water

. Done with construction paper, scissors, and a stick of glue. Some people didn't get it — that's alright. It was something I had to. And ultimately show.
I brought in this old chair to originally stack my resumes on it. I crossed out that idea and put a pile of old books on it and made a 'list of works' documentation to top it off instead. I think I saw a few people pick it up and read my artist statement stapled to it. I wanted to get the idea of a real art gallery aesthetic across. A live installation. With the old chair and the frying pan sculpture right beside each other, it's like your stepping into another room full of art pieces.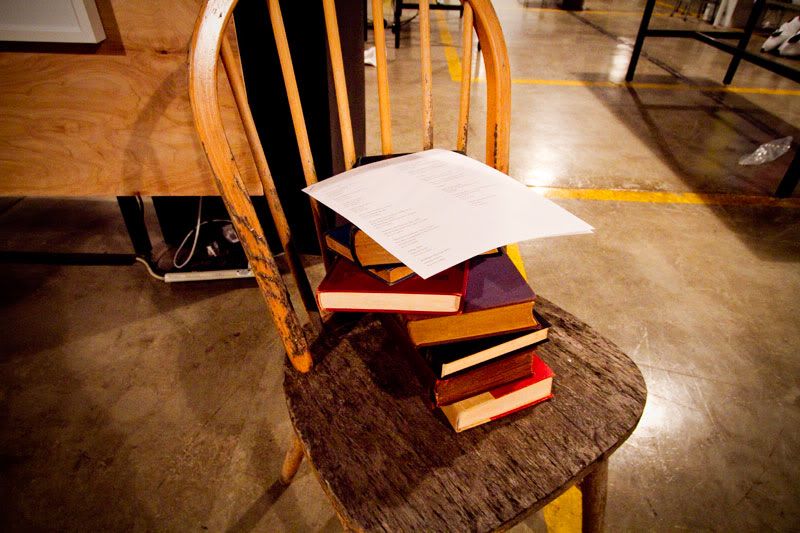 From "A Snowy Season", a made two collages:

From Her Bedroom Wall

uses my grandparents' wedding photos and a more recent photo before my grandfather passed. The larger picture on the bottom uses a photo literally from my grandmother's wall. When I went home for Thanksgiving break, I asked if it was alright to take that picture and use it in a piece. Well, this what you get. And yes, that is string.

The one on the right is called

Searching For Birds (Singing Songs)

. Do you recognize the two babies? Of course, it's me and Kyle! The picture to the bottom left is from our first birthday party, hence the "Singing Songs" title.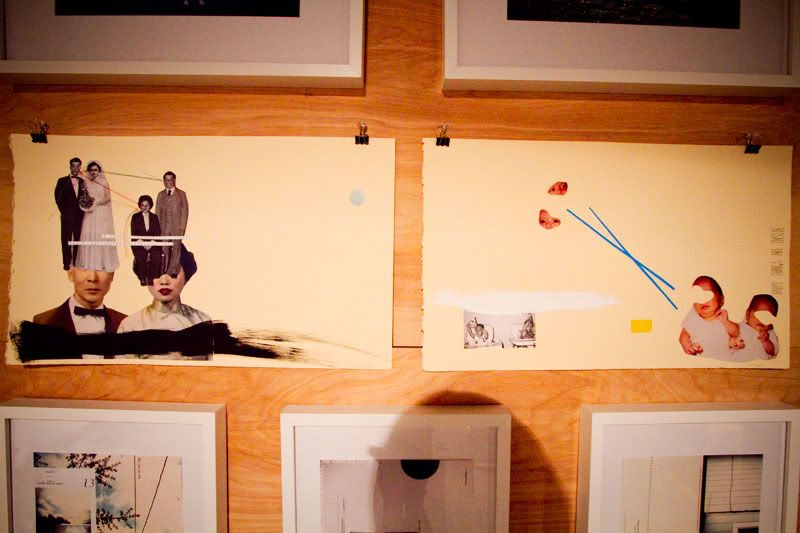 Right below is the triptych series called "Wire Through Heart". Featuring all original photography and writing throughout, each piece ignites a different story as your eyes move around the whole and on to the next one.
From Above (Coming Down to Shoot Us)
,
Nothing
, and
Breathing In Thin Lines
, was meant to be read up close, so the position of the series on the wall was just right. Go ahead and

try

to read it now...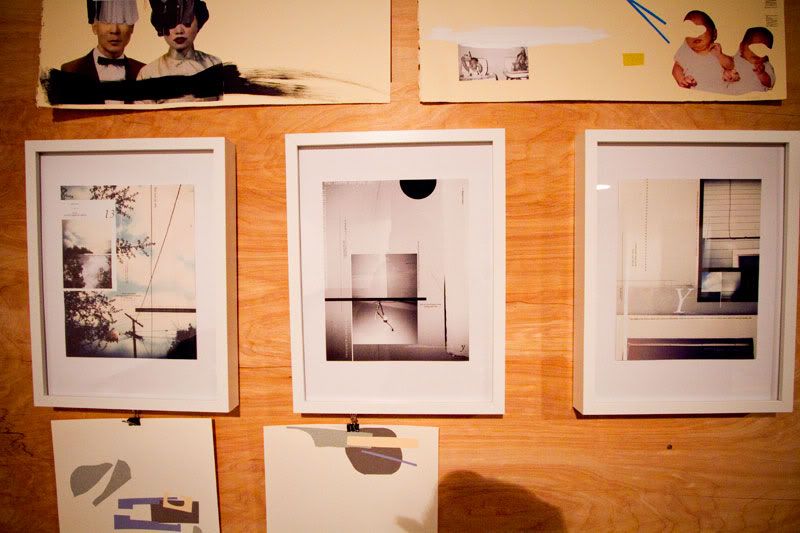 Some people even skipped over these. They were meant to be fitted underneath the table and right on the floor. I usually hate my prints on the ground, but I thought the execution was fitting. "The Tragic Apology of Elijah Wright" was a funny thing to do. From left we have

I'm Sorry That We're Lost

and

A Blank Stare (Loving Cosmos)

. Each is a scan of broken noise from a Xerox print I had. Nope, there is no type whatsoever. I wanted you to actually dive into the prints, as if you're getting lost in the noise of space. Did this explanation go right over your head? Good, because I don't want to explain who Elijah Wright is.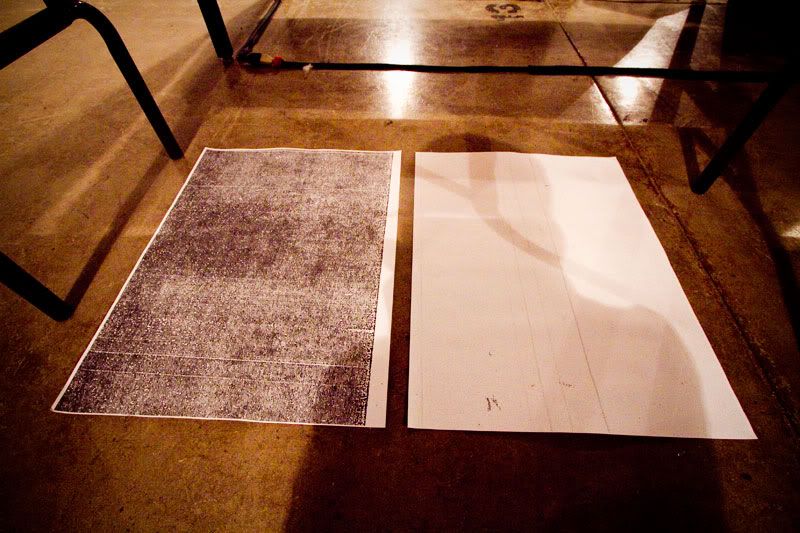 I'm happy with the setup. Everything was suppose to work together as one. The wooden wall, the ugly cheap brown table, the antique chair to the right, and the weathered frying pan beside that. Everything was truly organic — nothing

too

design-y. I even think that all the colors worked well with one another.

Many professors and over half of the critics(?!) told me I was too "fine art" to be in the Graphic Design department. That they didn't know what I was doing and why I was pursuing a road to design. But isn't everything design? I want to create art. I want to make something. And this was my night to showcase everything that I wasn't taught at Art Center College of Design. And that's to be yourself. Only the individual knows what the true essence of being the artist he or she chooses to be.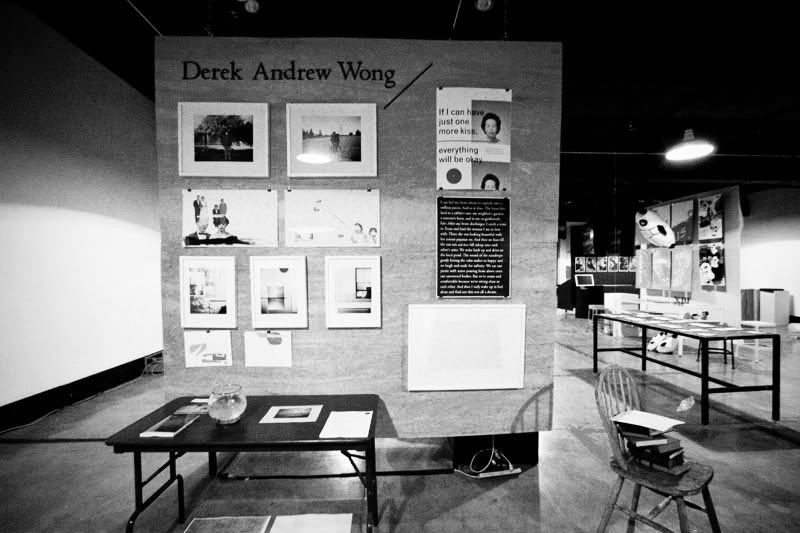 Thank you to Colton, Kyle, Niki, my parents, Chris, and Eric for all the genuine help.


by derekwong