If you know me pretty well, you know that I dig handmade typography and illustration just as much as I admire graphic/vector design. The organic penmanship from handmade design can be that much more intimate for your final execution than vector-based art. It goes beyond just pixel dots on a computer screen and shows the love of art in the ink of a pen.

The "Welcome to Heartbreak" final flyers were actually designed by Kyle, believe it or not. I created the broken heart but everything else was all him. The type, placement, color and sizing were all his ideas. I, myself, wanted these three flyers to float around for your eyes but they never made it out from our cave. Still cool enough to share though.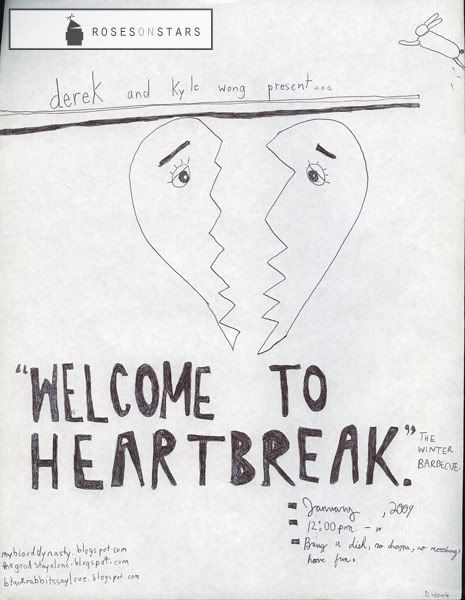 There goes the rabbit jumping around like it's nobody's business. I guess this is the last we'll see of the rabbits from now on. Or is it...


If you look closer, there is no set date after the month "January". It would have been really funny if I purposely posted it with no date to get you guys going out of your minds. A great sight to see.

by derekstars